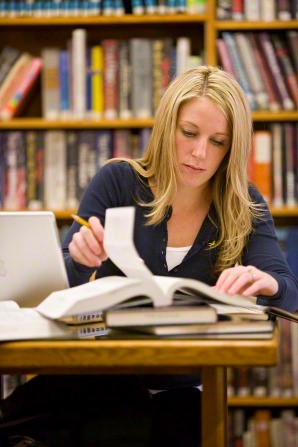 Who We Are
Our primary goal is to help all students become extraordinary in their ability to read and learn from academic text.  We support students in all courses, all abilities, and strive to tailor the tutoring experience to address the individual needs of each student.
Some of the services we offer include:
Essential reading strategies, such as SQ4R, previewing techniques, text annotation, questioning text strategies, vocabulary development, etc.
Critical study skills, such as time management, test-taking skills, Cornell notes, etc.
Collaborative study partnerships (Study Buddies) - These partnerships pair a skilled tutor with a student.  The partnership meets regularly where the tutor helps the student stay organized, prepared for their courses throughout the semester.  
We also provide academic testing that identifies specific strengths and weaknesses in the areas of reading comprehension, vocabulary, and reading fluency.
Click here if you are interested in setting up a tutoring appointment today.
Online Support
If you are an online student and have questions about tutoring, scheduling an appointment, canceling an appointment, or accessing your tutoring session, you can start a live chat below.
For online student who have already schedule their tutoring appointment, go to your appointment by clicking on Room 1 below. When you click on a room, it will have you sign in as a guest.
Courses Offered
There are several elective courses that are offered to help students become more efficient and effective readers.  Those courses include:
English 100: Reading Comprehension (2 Credits) - This elective course focuses on providing students with proven research-based strategies and skills to become a successful and efficient college reader.  The course focuses on improving reading comprehension and vocabulary development. 
English 107: College Reading (3 Credits) - This elective course was developed to help students apply reading strategies and comprehension skills using college-level texts and readings. The course incorporates reading, speaking, and writing as fundamental activities. This course is a great refresher course for students just returning from a mission or have not been in college for a while.
English 102R: Reading Assistance and Textbook Comprehension (variable credit 0.5-2) - This elective course is not a traditional course and there is no face-to-face classes.  The course requires working with a Reading Center Tutor to develop a plan to improve reading and learning.  Students in this course set a reading goal and complete homework assignments that are given at each tutoring appointment.
GS 108B: Tutor Training: Reading - This is a 1 credit semester length class that focuses on preparing students to become certified Reading Tutors who would be eligible for employment at the BYU-Idaho Reading Center as a tutor or to work in various educational settings as a tutor throughout the United States. The course meets once a week and has a required mentoring lab and tutoring lab component. Completion of the course leads to Level 1 - Tutor Certification through the College Reading and Learning Association as outlined in their International Training Program Certification (ITTPC).